There are a number of places on a graph that you can click to change the display. These hotspots save you from having to use menu or toolbar options.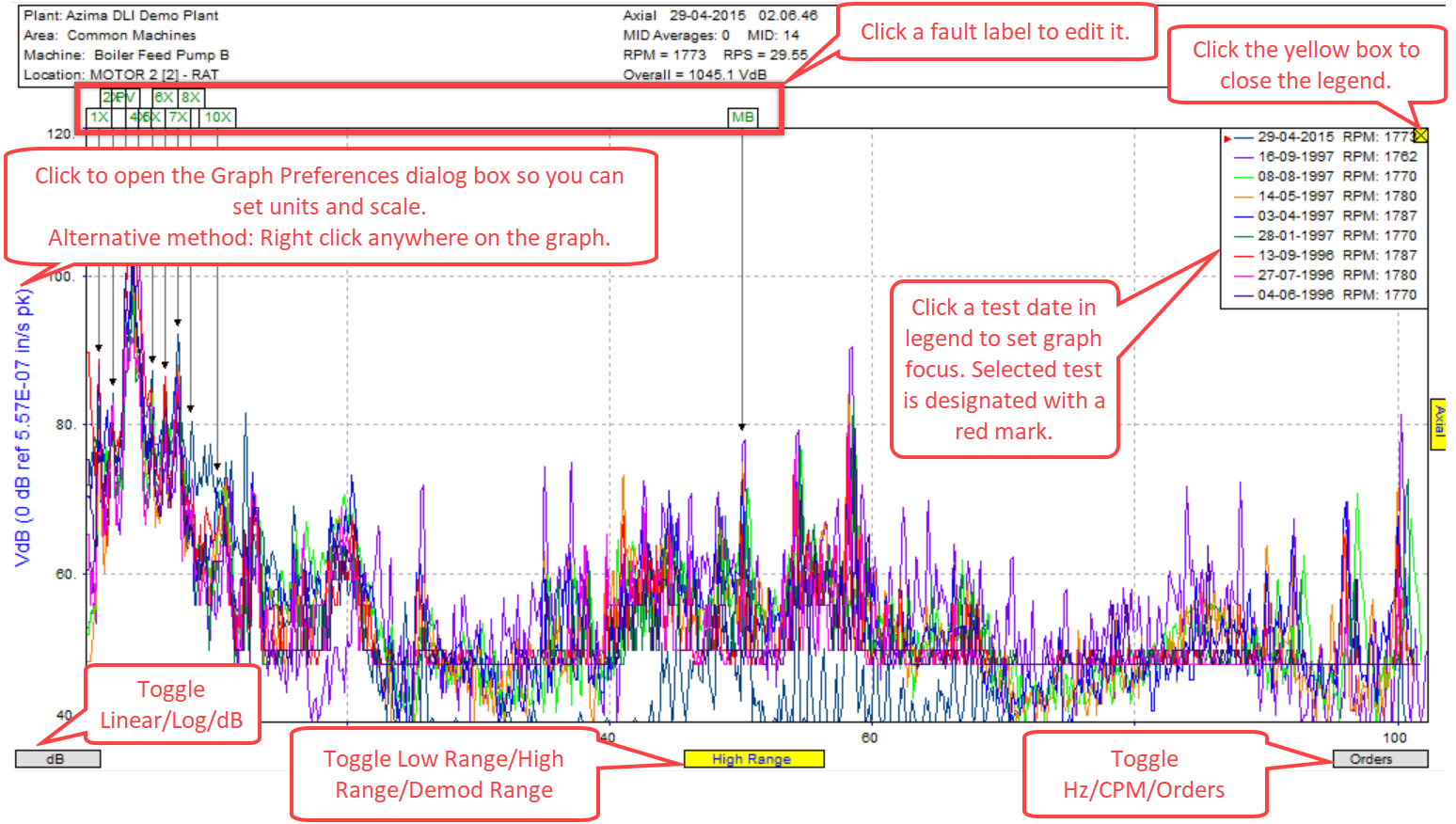 This hot spot...

Does this...

Unit Label

Click the unit label (or the X- and Y-axis annotation) to open the Graph Preferences dialog box. Alternatively, you can also right-click the graph.

Linear, Log, dB

Click to toggle between the three states. If there are no dB units defined for a linear unit, it will toggle between Linear and Log.

Low Range, High Range, Demod Range

Click to toggle between the three ranges.

Orders, Hz, CPM

Click to toggle the X-axis units and scaling.

Axes

Click to toggle between the available axes.

Legend

Hover over the legend to view a tooltip showing the complete detail relating to each of the graphs. Click to give that graph the focus and have the cursor appear on that graph.

Fault Labels

Click to edit the label and frequency.

Shift+click to set up harmonics at that frequency. For example, if the fault were at 3.2X, then harmonics would be set up at 3.2X, 6.4X, 9.6X, etc.
Ctrl+click to set that frequency as the center frequency of the sidebands. If sidebands had been previously set up, the existing sideband frequency will be used. Otherwise 1X sidebands will be set up automatically.
Ctrl+Shift+click to use that frequency as the sideband frequency. For example, if the center was set to 3.2X and you Ctrl+Shift+click the 1X label, you will have sidebands of 1X (.2X, 1.2X, 2.2X, 3.2X, 4.2X, etc.).